Injection Moulding
The flexibility of making all sorts of components by using polymers was a great invention by using moulding machines that inject plastic resins into moulds these have become very common and mould design has got creative with the advancement in computer aided design software.
Evolving from metal die casting designs from the 1930's plastic resins has a lot of advantages over other types of manufacturing procedures like the following:
Both applications are totally different whereby die casting invokes pouring molten metal into a cast and plastic moulding is where you inject molten plastic into a mould.
The science of transforming plastic resins into useful things through the technique called injection molding had made an incredible impact on industry and on our daily lives.
The procedure of moulding parts with injected plastics has transformed all of our lifes due to the applications and inventions that this process has made in making mass produced components easier and cost effective.
And also with the fast pace of technology and computer software the design of parts have no limits and with the advancement of new plastics resins the future looks great.
Mould Design
The designs could possibly be summarized into the subsequent directions:
To reduce sinking, bending, residual stresses as well as boost mould fill and cycle times you are able to have consistence wall depth through the entire component. 

Use minimum thickness agreeable with all your design specifications. It helps ensure cooling, brief cycle periods and also bare minimum shot weight. 

Designs should certainly produce effortless disengagement from your mould by means of a draft when it comes to mould opening or sealing 

Take advantage of good-sized radius at all edges with a minimum amount of one material width 

Ultilise ribs or gussets to enhance rigidity in flexing
Injection Moulding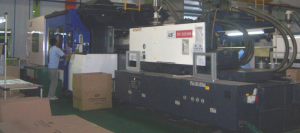 The whole process of

injection moulding

is an elaborate science involving complex calculations. Every resin has shrinkage and this needs to be precisely identified at the design stage otherwise your components may possibly be flawed and be the wrong size.
To overcome this whilst the componet is being filled with plastic resin while under pressure is to add more resin to allow for contraction however this may lead to some problems like:
Setting the melt temperature of the plastic resin too high can lead to burnt parts

Varying thickness of the component causing warping

Component surfaces can become uneven due to low pressure injecting the resin whilst filling or too much moisture in the resin

Imperfect mould filling due to low speed causing the resin to solidify before being filled
Therefore, specific consideration must be made to eliminate any implications in your plastic moulds. The entire procedure works extremely well with a wide variety of plastic resins including:
polypropylene

polyethylene

ABS
This is where knowledge and experience comes into play because all resins have there advantages and disadvantages so knowing the characteristics of each is worth its weight in gold when applying these to your components. Here at IMT who are a plastic mould manufacturerwe who design mould tools for your components ready for injection moulding.

Plastic Mould Makers